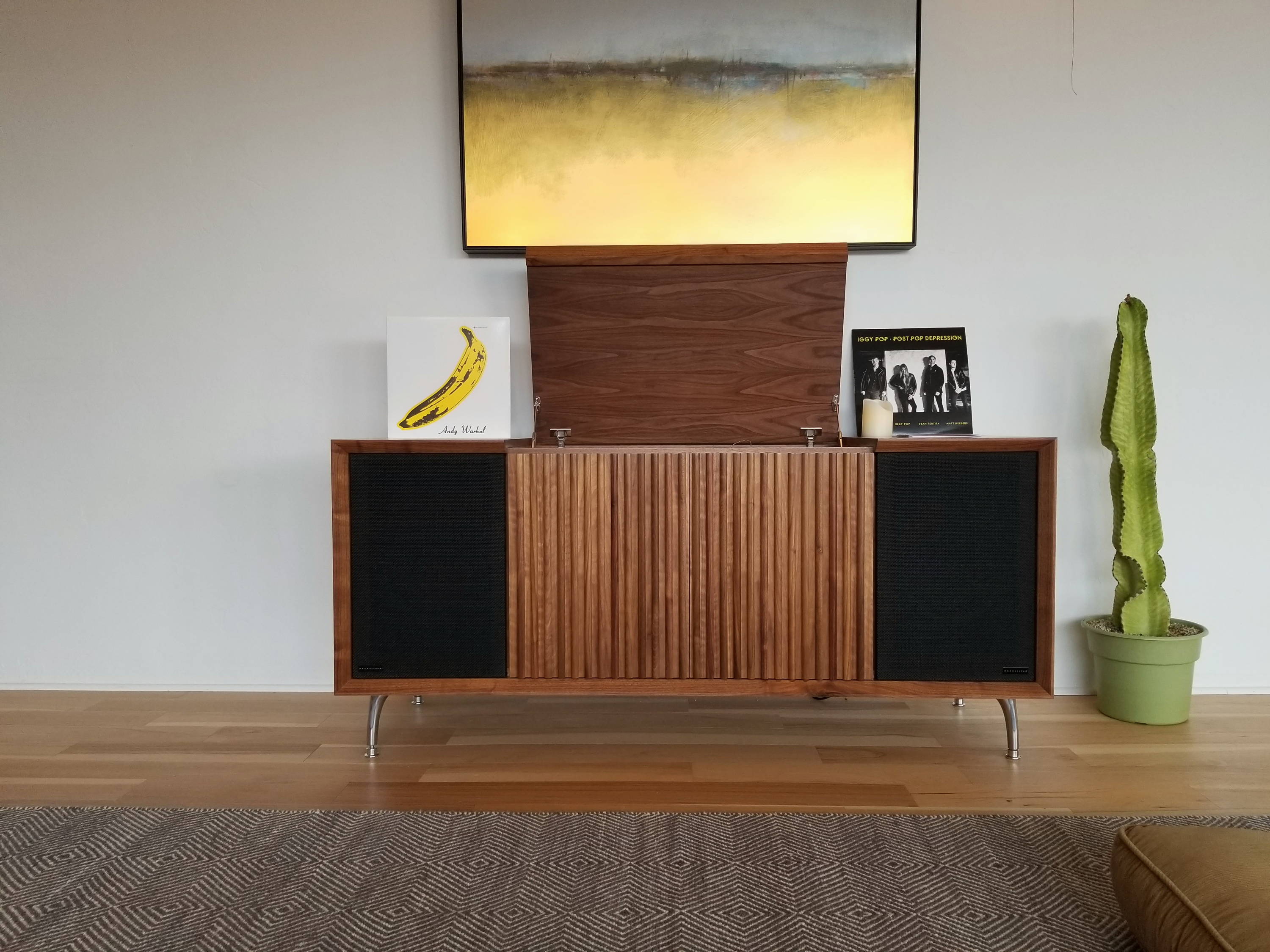 Nothing compares to the nostalgic warmth of listening to a record analog. The art of choosing an album from your collection, dropping the needle — with a good drink in hand — and letting the music take you away. The experience is an audible time-capsule unique to vinyl that Wrensilva® is committed to reawakening. And there's one element from the vinyl experience that seems to transcend time and the listening medium: the album cover art.
Even in the era of streaming, and the ever-expanding collections of curated playlists, the original album art sustains… it's a reminder (even in the form of a thumbnail) of the value in the unique art that represents the unique music creations within. And that this one song is part of a larger musical experience, namely, the journey of listening to an album from start to finish.
Albums and their covers are reminiscent of a coffee table book or painting; cherished not only for the experience, but as works of art worthy of display. And because Wrensilva values both design and sound, each console features a dedicated space to showcase your record collection. The cover in the spotlight may change as often as the records you're spinning, or maybe there's one that repeatedly takes center stage, displayed even during quiet hours. But showcasing favorite album art is a reflection of something deeper and enhances the at-home music experience.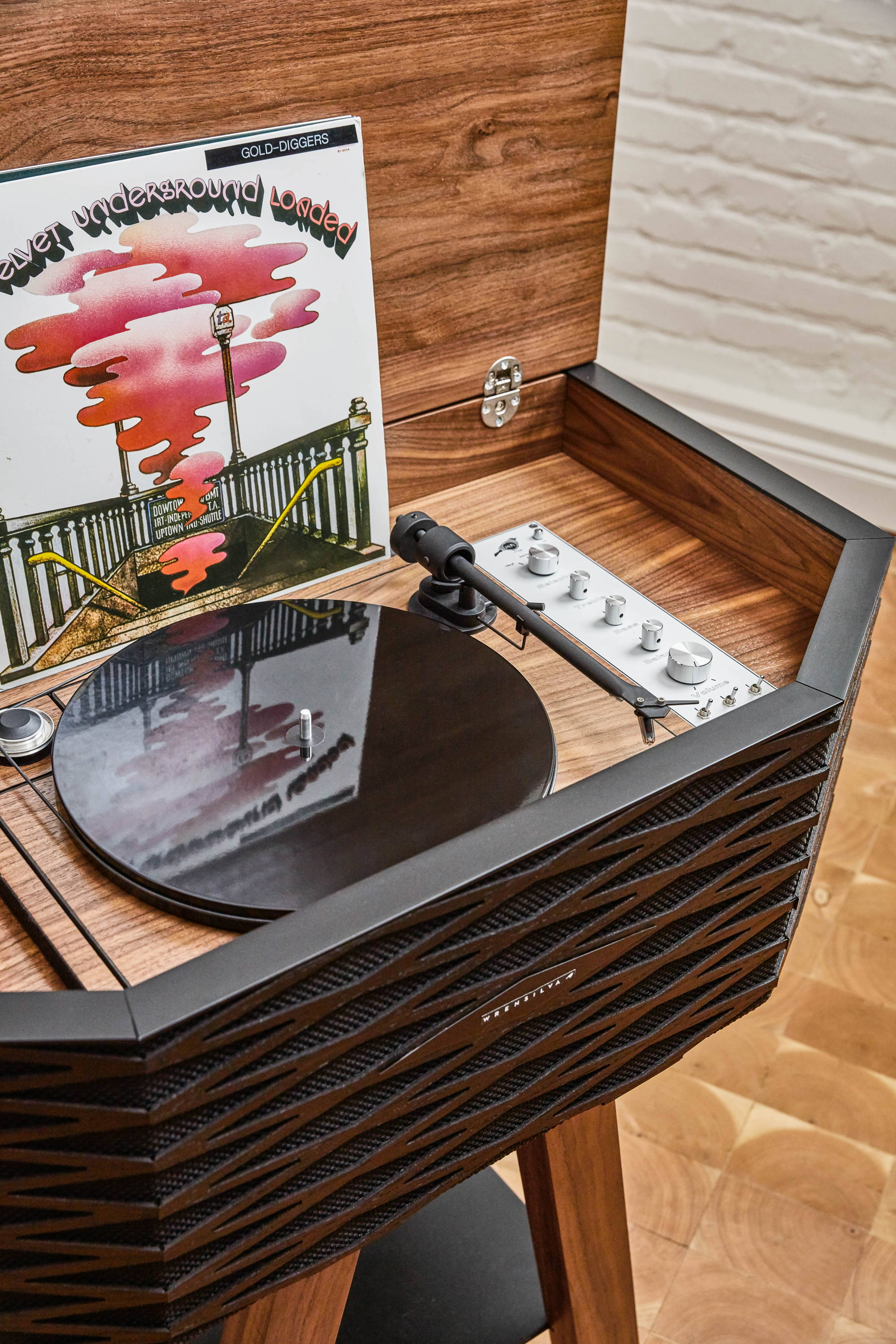 Cassi S., who has The Standard in her living room, says her chosen album art display is a no-brainer. Released last month on Rhino Records, 'Aretha' is the first-ever career-spanning collection by The Queen of Soul, with a cover inspired by 1960s psychedelic collage art. It's a new favorite, but ever since she bought it, it's been front and center.
"It's probably one of the coolest album covers ever. I love anything and everything Aretha. She is the Queen and my favorite. I only wish she were alive to see that album cover," said Cassi.
As someone who now owns "a lot of vinyl," the covers themselves were always intriguing to Cassi while growing up. Other favorites include Journey's trippy starship scarab beetle cover for 'Escape' and Foreigner's 'Greatest Hits,' which looks like an old jukebox and was her dad's.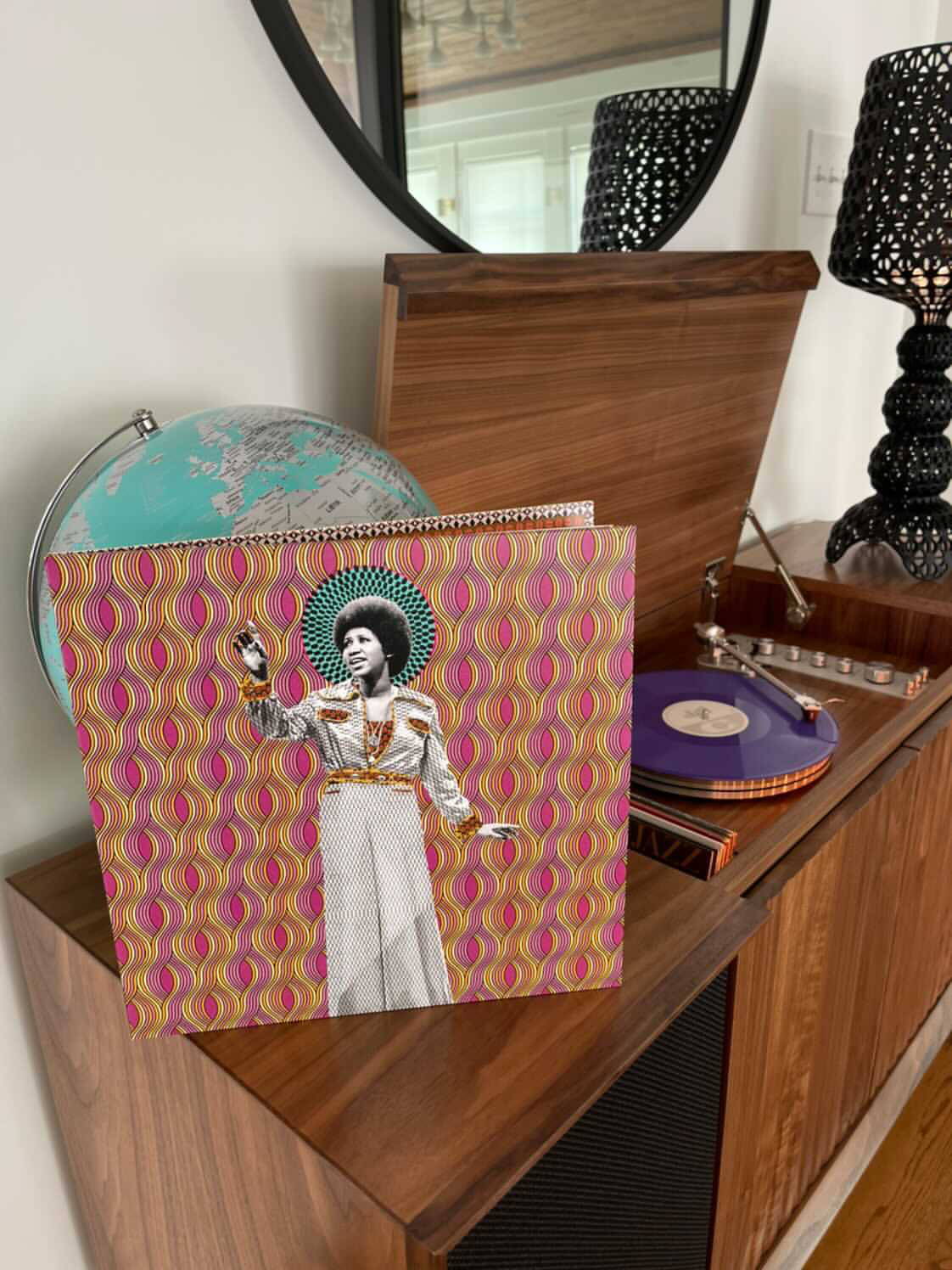 Photo Courtesy of Cassi S.
"And of course, The Beatles 'Sgt. Pepper's Lonely Hearts Club Band' is incredible! I'm into nostalgia. That's what vinyl art does to me, it stirs up nostalgia. Reminds me of my youth studying the covers and reading the backs. iTunes just doesn't do that for me," she said.
Because vinyl offers a tangible, tactile experience and relationship with the music, cover art will forever be important for collectors. Like Wrensilva Chief Design Officer Debra Salyer, who says her favorite album covers are by Elvis Costello:

"In particular, I love 'Armed Forces' and 'My Aim is True.' A quick Google image search has led me to believe that the splatter cover edition may be a collectible item now. That's especially cool because I own three copies of it and listen to that album very regularly."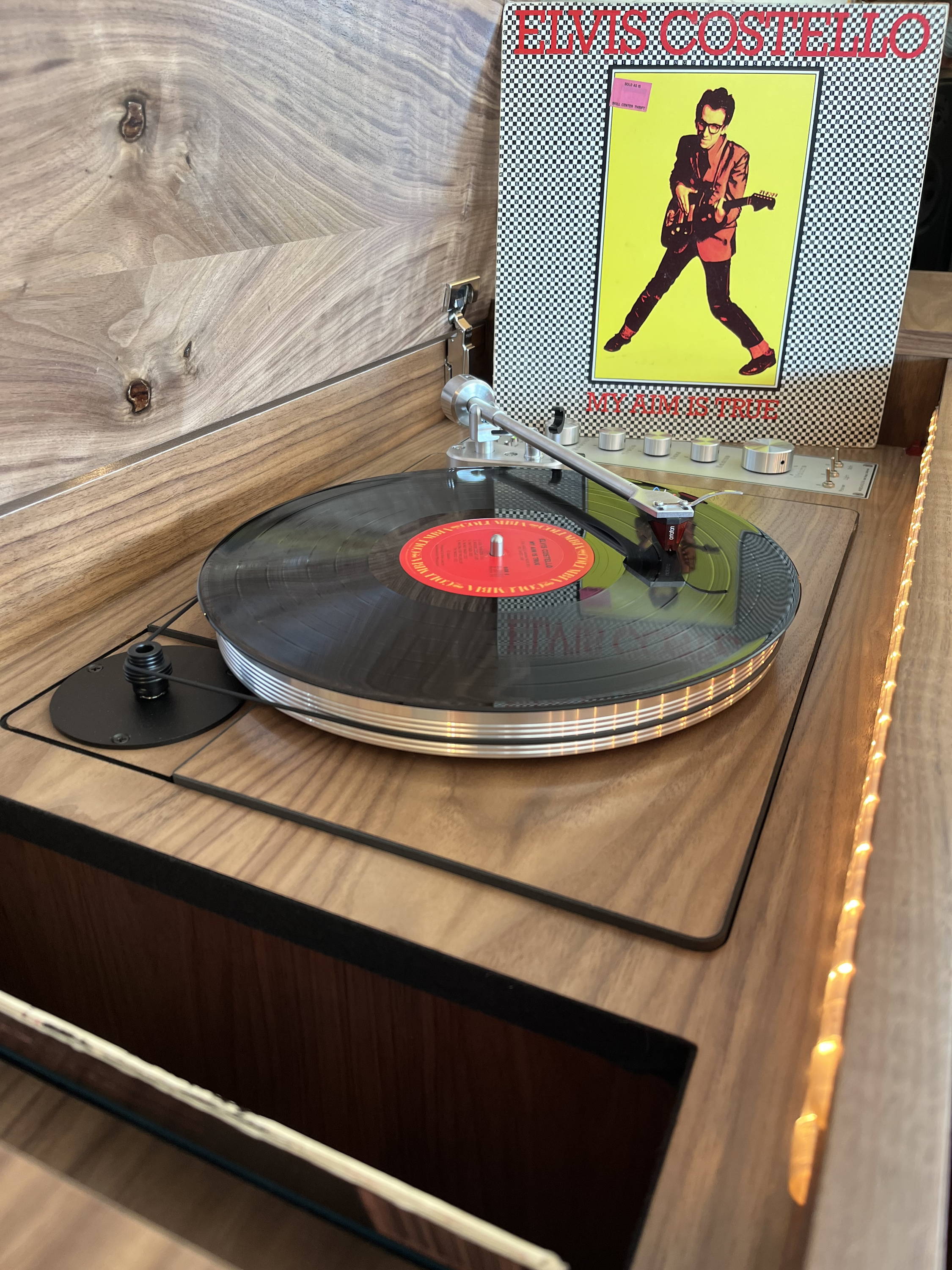 The 'My Aim is True' cover, which features rows of tiny black and white checks surrounding a photo of Costello with the phrase "Elvis Is King" discretely woven in, also informs a design idea.

"I love the cover so much, I often think about how I might design a console inspired by it."
For Wrensilva CEO Greg Perlot, his "outright favorite" cover – 'London Calling' by the Clash – also pays homage to Elvis, but in a slightly more nuanced way. The cover, which shows the band's bass player, Paul Simonon, driving his bass guitar into the stage of the New York Palladium on September 21, 1979, copies Elvis's debut album from 1956.
"It's just great… such a perfect punk move. Those two are a great conversation starter – everyone knows 'London Calling,' no one remembers the Elvis cover," he said.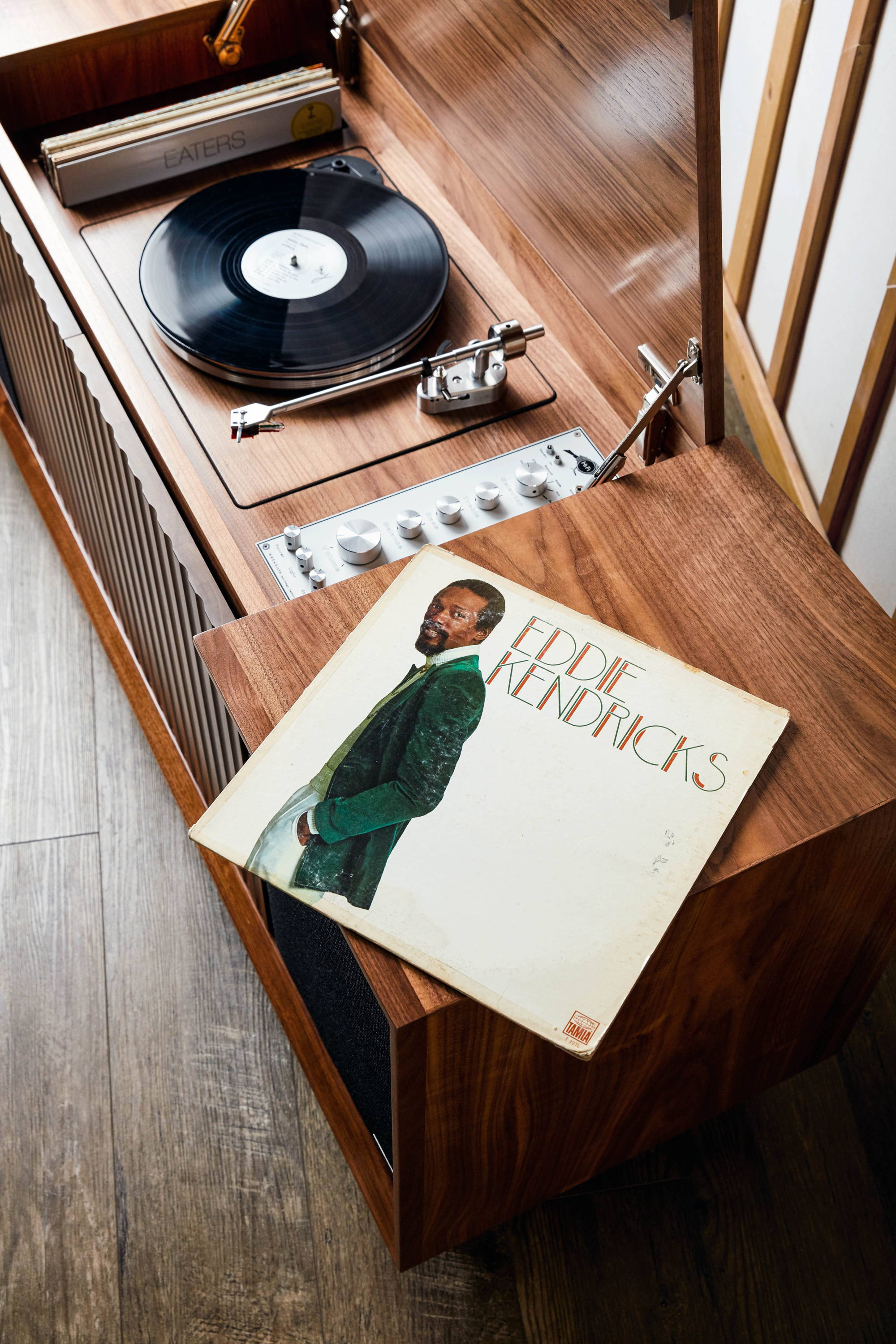 But when it comes to art that informs the actual music, his top pick is Frank Sinatra's moody concept album, 'In the Wee Small Hours,' depicting the artist on a deserted street at night awash in blue-toned street lights.
"It's art that captures the experience that's about to happen. Picking that up and playing the first song just takes you to a place," said Greg.
While music transports us, the cover is the visual world of the destination. So next time you pull out your favorite records from the archives, go ahead and proudly display them on your consoles as a visual reminder of your favorite music.