The legendary artist, designer and photographer blends art, music and design in the Wrensilva® x John Van Hamersveld poster collaboration.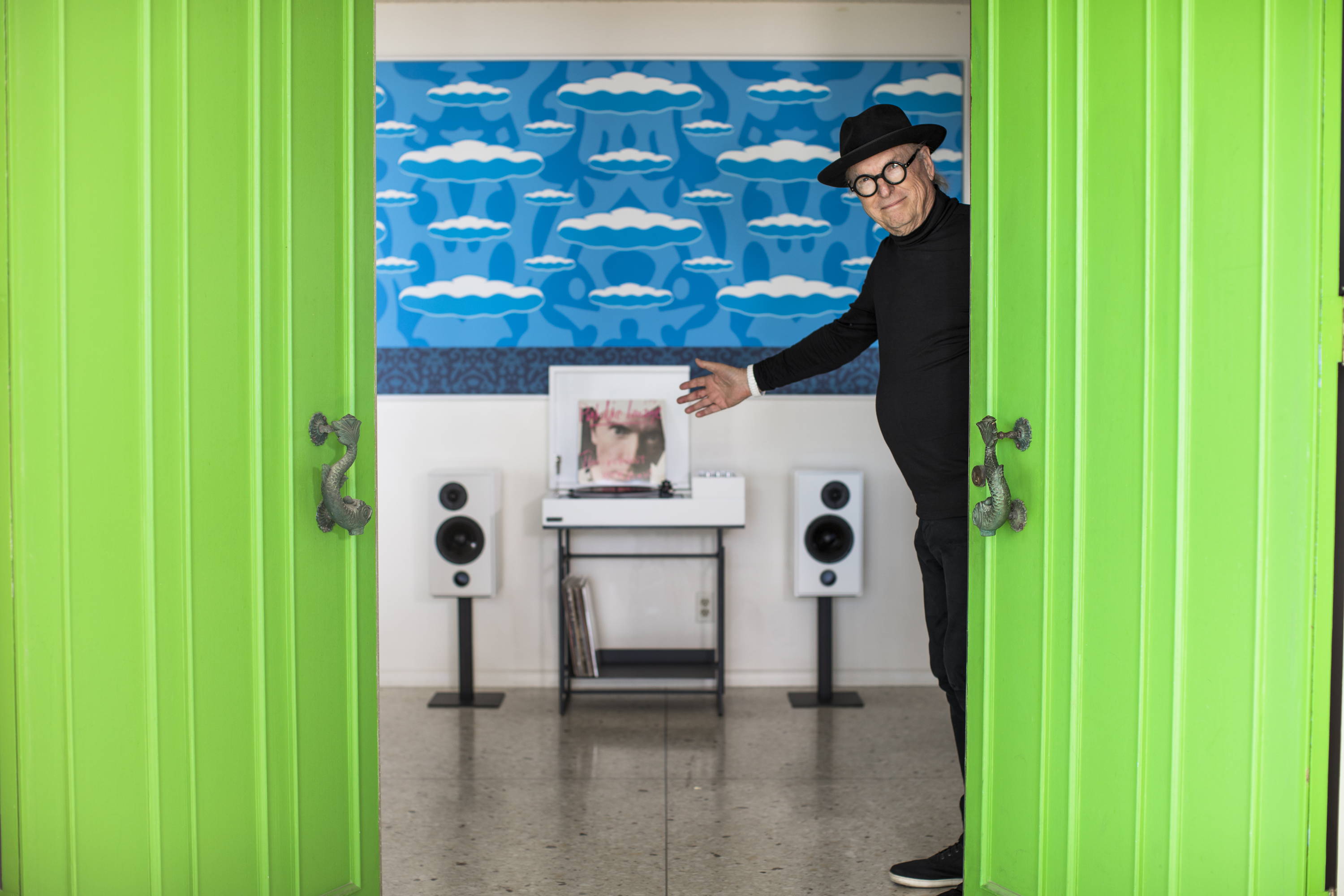 "I hope it makes you feel something," John Van Hamersveld says of the poster which is intended to capture the digital and analog experiences of playing your favorite vinyl on a Wrensilva record console. "With the arm hanging just above the record, it simulates that something is about to happen. All of a sudden you're captured by this depth. And I think that's what music is."
When Van Hamersveld created the infamous The Endless Summer movie poster more than 50 years ago, it was just the beginning of a career that has since taken him from his roots in surf culture to legendary album cover designer and entrepreneur. He's been enlisted by some of the biggest names in music to create the visual stories that represent the albums within: Jefferson Airplane's 'Crown of Creation', Blondie 'Eat to the Beat' and The Beatles 'Magical Mystery Tour' to name a few.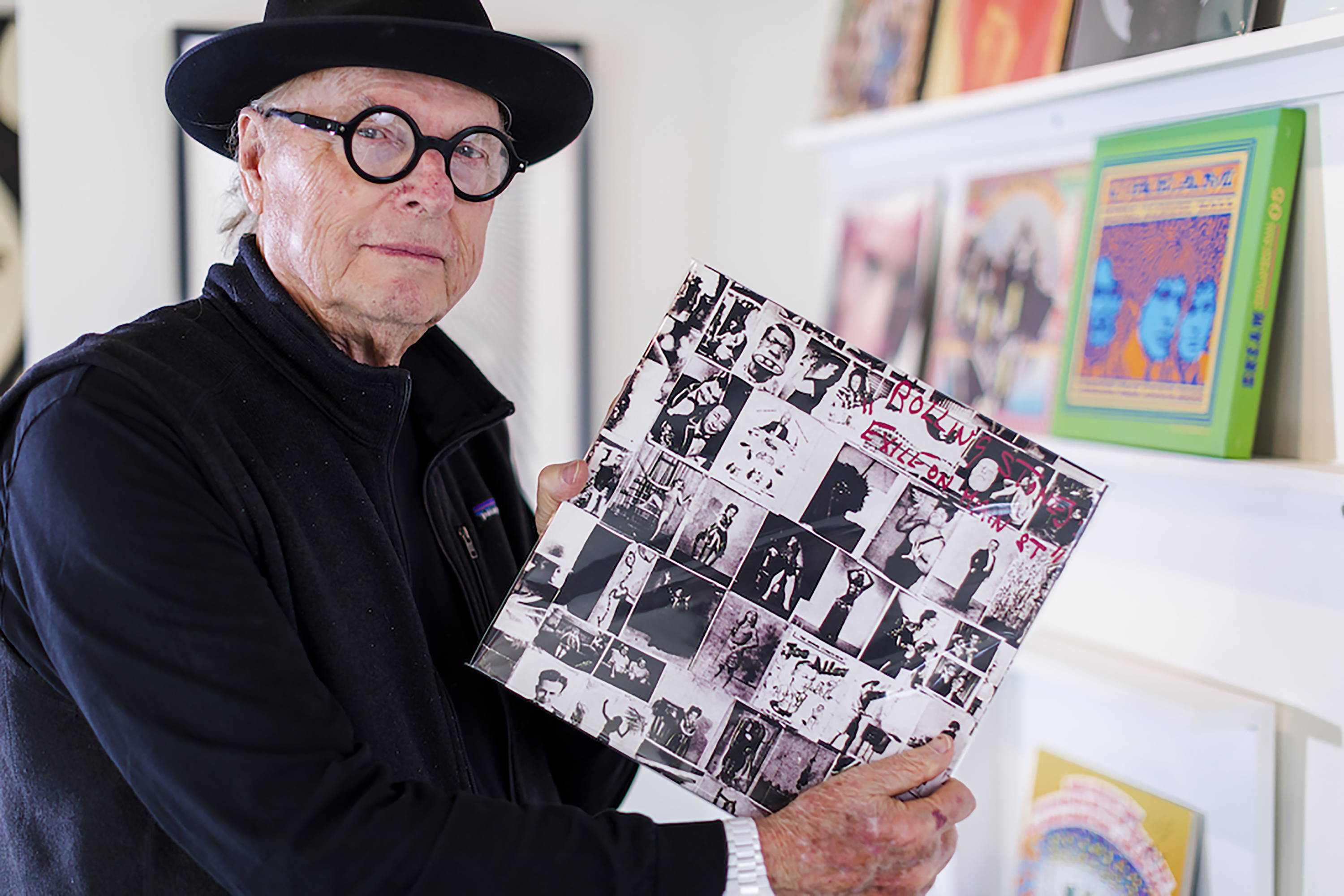 At a time when the 12x12 record jacket was the primary canvas for album art, Van Hamersveld's ubiquitous graphic design even garnered the attention of The Rolling Stones to create what is arguably now their most popular album, 'Exile on Main St.' The instantly recognizable cover, comprised of "rip and tear" photography, changed the course of album art forever.
When computer design technology reared its head, it was negatively viewed in many of Van Hamersveld's circles. And while others saw it as a roadblock, Van Hamersveld saw it as an opportunity: the shift to computers was a new way to create. Another medium to tell the story of the artists behind the albums.
The Wrensilva x John Van Hamersveld poster pays homage to the influence album art has on the music experience. As JVH tells it, the untitled artwork is meant to be as multi-dimensional as music itself. We sat down with the original creative triple threat to hear about the inspiration behind his artwork, iconic moments throughout his career and what he's listening to on his Wrensilva.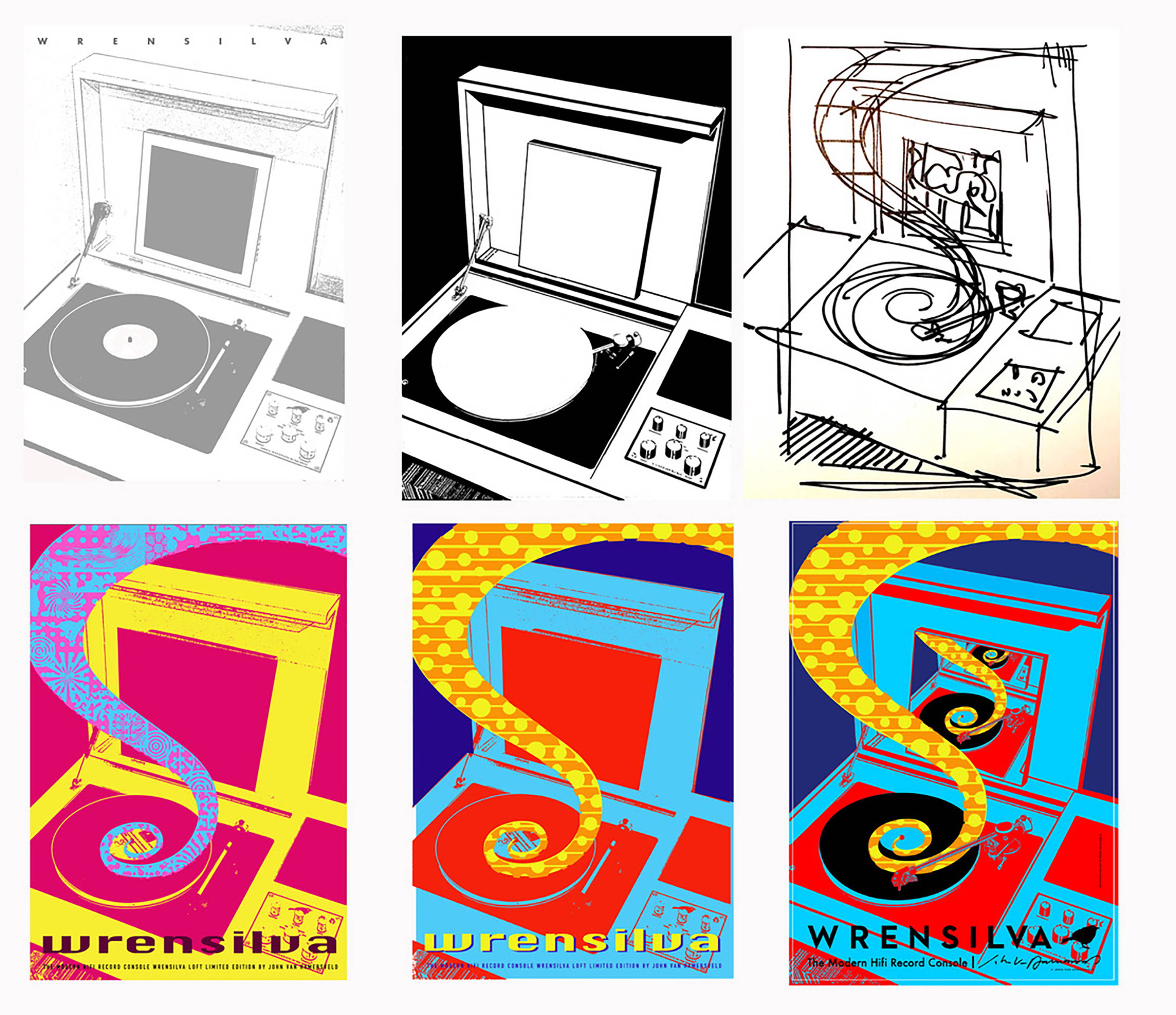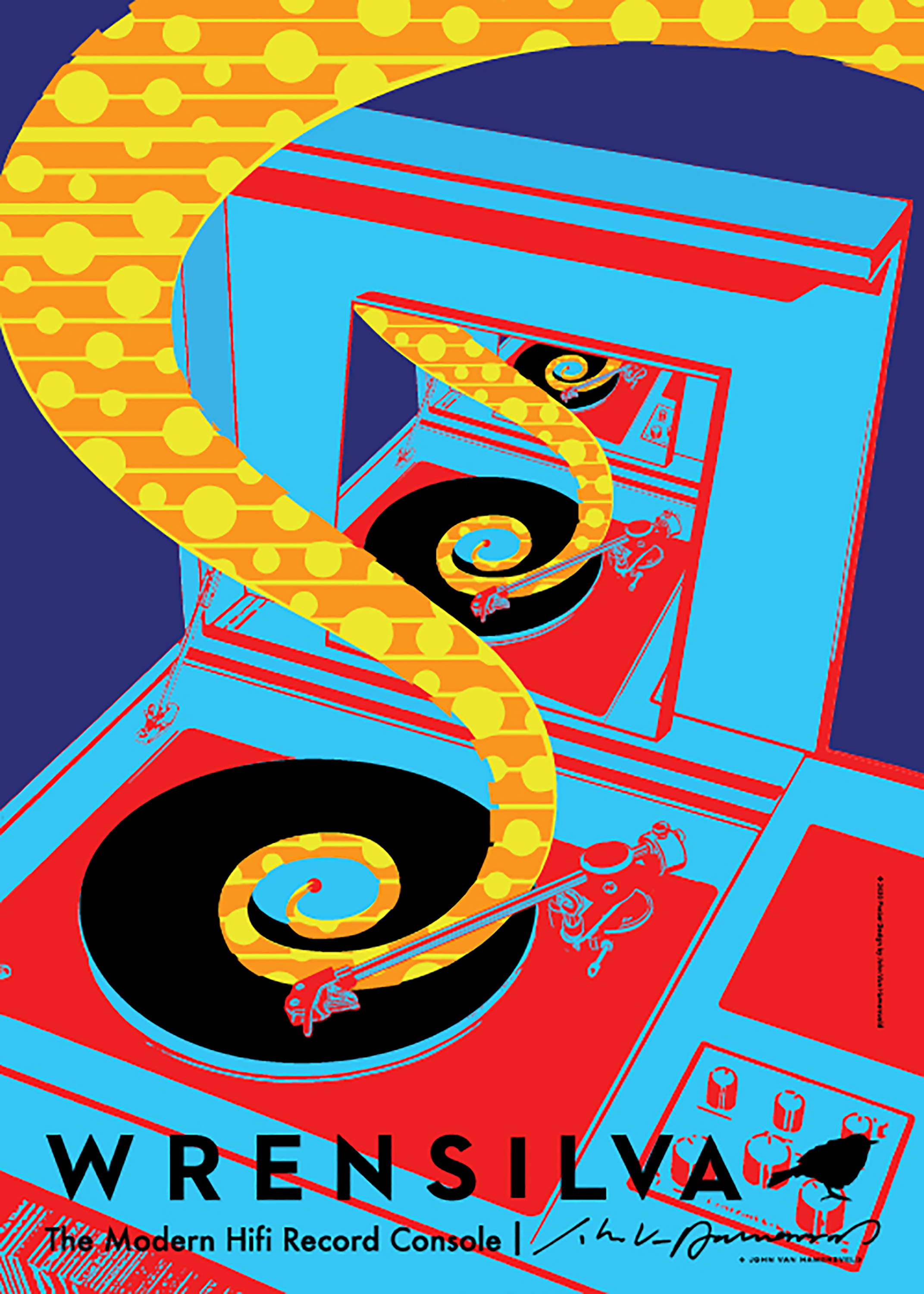 The Wrensilva x JVH poster is available only as a gift with purchase of a Wrensilva console or at select record stores nationwide while supplies last.
Wrensilva: Tell us about the colors in this artwork and why you selected them for this poster?
JVH: I like red and blue because they are in contrast to one another. They flicker back and forth. I start the drawings in black and white, then capture and put them in the computer where I can control colors and depth. In this piece, the blue and the red are controlled in a way that gives you a background. The dark blue allows the yellow and red swoop to pop forward because of its contrast. By reducing it down and putting it into the element — the Wrensilva console — you get this depth that is like sound itself. Sound is something that goes forward and backward, and so does this.
Wrensilva: How is the integration of digital and analog experience reflected in this artwork?
JVH: Music is dimensional. It has a depth and a foreground to it, and I hope that this gives you a sense of something remarkable as you view it. The music isn't actually there, but it is hanging on the wall … in the poster. You're able to experience something that is analog but it's been produced in a digital medium. I think what's neat about any poster is that it's something that you wouldn't normally see… it's like an underground image. This poster isn't a photograph of a console. It's a feeling.
The digital age has brought a whole new technology in terms of working as a designer in the drawing arts. I was able to take these blank backgrounds of simplicity, make them very complex and then colorize them. And then I could take pieces and layer them as I progressed — information on top of information. You could call it psychedelic, but it's just a pattern. When that went into silkscreen, into multiple colors, it just became an amazing visual treat.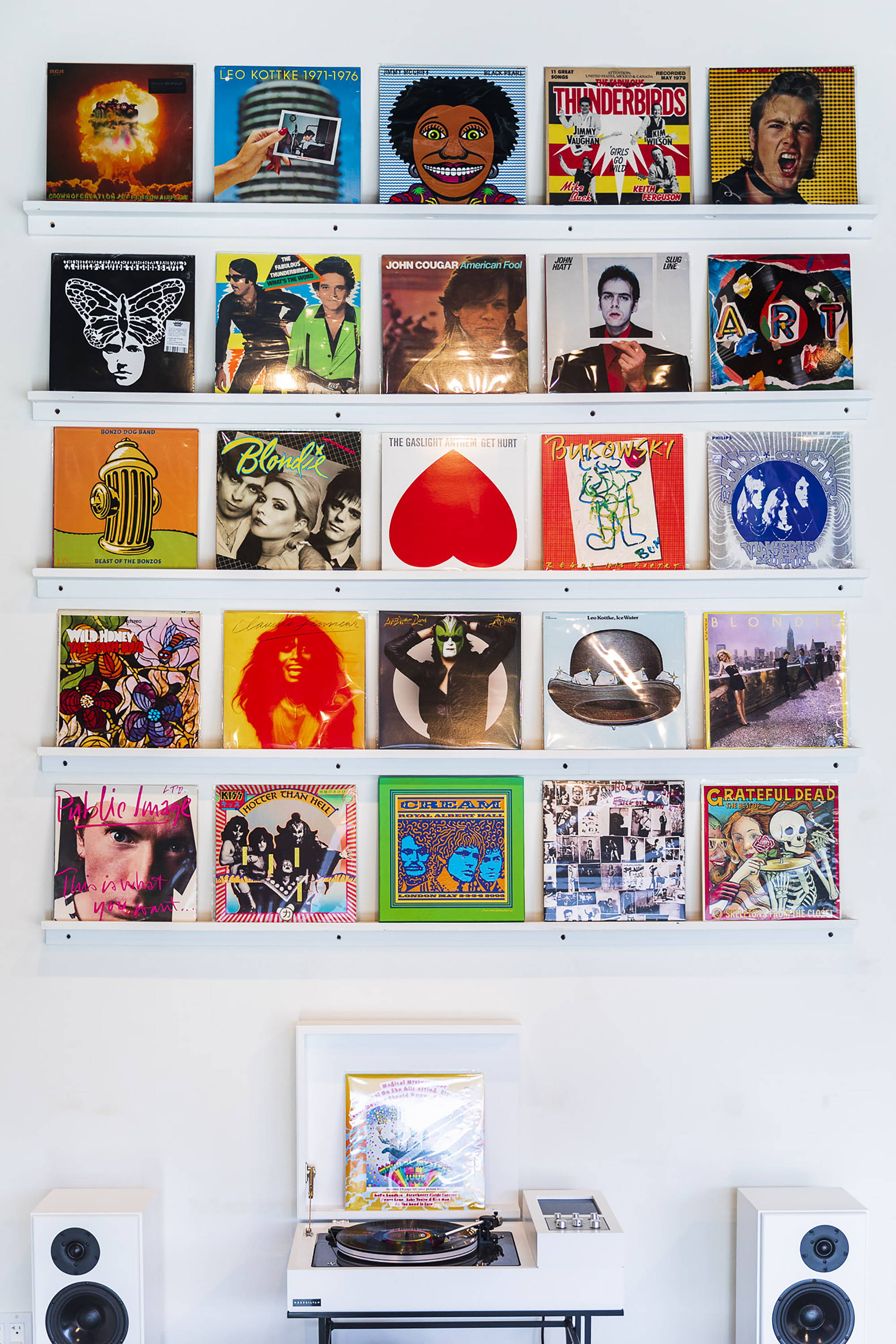 Wrensilva: What's your favorite thing about your Wrensilva console? What albums do you listen to most on it?
JVH: The Wrensilva console itself is just a great piece of design — it's a beautiful object that sits in my home. The sound is unbelievably elegant. In terms of the albums, I listen to The Rolling Stones 'High Tide', 'Exile on Main St.', Mick Jagger 'Live in New York 1993/09/02'…and [Bob] Dylan. I've always listened to Dylan when I'm traveling across the country, but Dylan on this piece is much more impactful.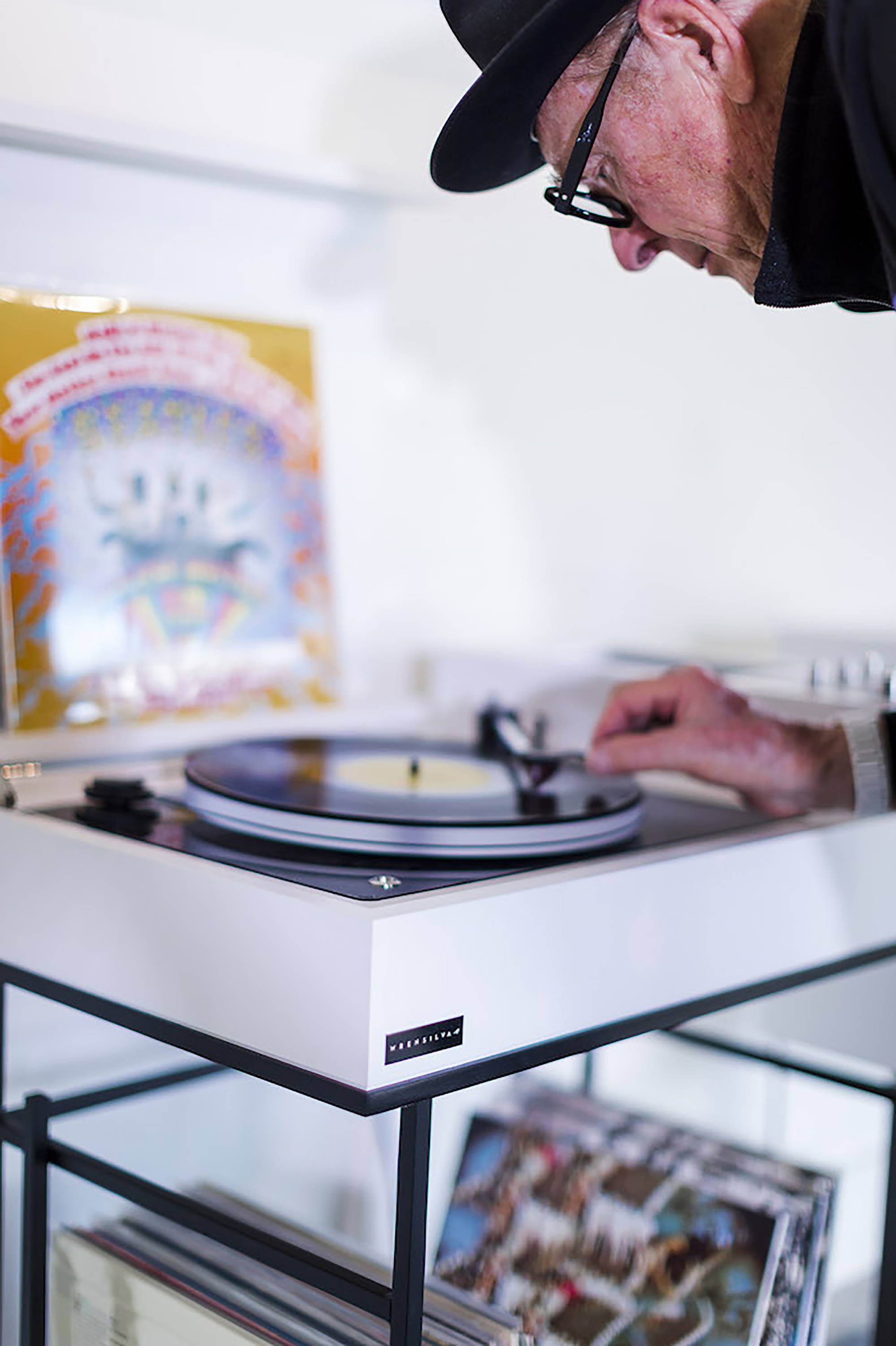 Wrensilva: Do you have a favorite record store? What do you love about it?
JVH: Yes. We have one here in San Pedro, JDC Record Store, run by a friend of ours. We used to go there as often as once a week. There's also a jazz record store called PM Sounds. Of course, I haven't been to a record store for a year but I used to travel to them while going cross country. I did a poster for a friend of mine, Eric Clapton's Cream 'Royal Albert Hall'. When they finally printed the poster and put it in-store, the manager called me and told me that the poster was selling out and that we had to print more. They were sold out again in a day. That poster ended up being a CD cover, and we toured to 17 record stores. The next year, we did another tour to smaller stores all over the nation. That was really the end of [record] stores, and then the medium became the computer. In the last ten years, stores have come back around and here's the thing about record stores: analog will only continue to become much more important.
Wrensilva: What or who inspires you most in your everyday life?
JVH: At my age, everything is inspiring. I do miss meetings at my studio; there were always inspiring people coming in and out. One time Steve Jobs had his manager come over with an Apple "Lisa" computer, at the time Steve was only 25 years old. I was about to do a poster for the Olympics and I remember him setting it on the table and taking a picture of me with the computer. Over the years, Steve would show me new computers — in one instance he had 40 programs running and I remember thinking, wow this is amazing. Incredible. It was all exploratory. That was who he was.
Wrensilva: What album covers are you most proud of and what are your thoughts on album cover art?
JVH: My gift as an album cover designer was that I was a photographer, designer and an illustrator. The thing about the album cover business was that no artist wanted to see a similar photo on other covers, so I would take my pictures first and then I would illustrate: The Grateful Dead 'Skeletons from the Closet' comes to mind as does my time touring with The Beatles in London during their 'Magical Mystery' tour. That's where I stumbled into Mick Jagger: when I met the Stones, I showed them The Endless Summer poster and the 'Crown of Creation' poster. Robert Frank walked in the door, so I told Jagger he'd be great for the cover and they took me in to be their designer. It was their most popular album even though it was rough — it wasn't slick. But you can look at it over and over again and never see the same thing.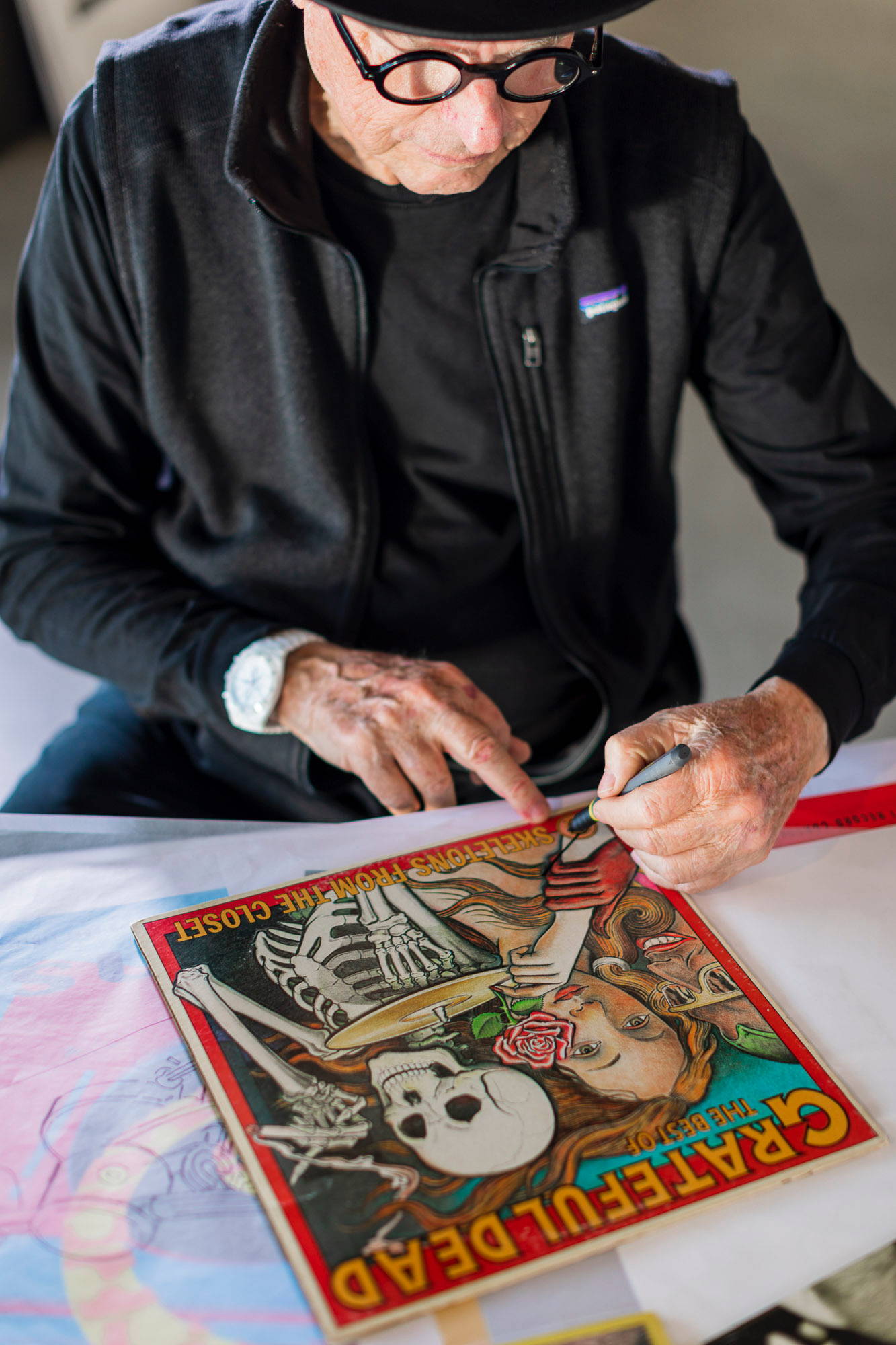 The Wrensilva x JVH poster is available only as a gift with purchase of a Wrensilva console or at select record stores nationwide while supplies last.
Photographer: Joanna Miriam
Art Director: Charles Adler