These designers are dishing on how to create the best home audio experience
When it comes to designing the ultimate home music room, our favorite interior designers say it's not just about how it looks, but also how it feels. And it turns out any room in your home can become an environment fueled by music.
Read on to learn how these experts go about designing music into a space, get some fresh music room ideas and design inspiration, and maybe even snag a few great music recommendations along the way.
What key components do you consider when designing the layout of a music room?
Tiffany Howell of Night Palm: I think a lot about how the music is going to sound and FEEL in the room. I layer with textures that are going to add to their listening experience. I want warm woods and lush fabrics so that we get a nice sounding tone in the space. Also, I space plan the room so that you get the best positioning for optimal listening.
Rania Alomar of RA-DA: When designing a music room, I imagine an autonomous space specific to that purpose. But many people don't have the space to live that way. We think about the entire space and what is happening within to design the music experience. I like to integrate music in places we use throughout the day - the kitchen, outdoor space, bathroom, living room or other places you socialize. In a social space, music should recede in order to have a conversation while still having the music audible but if you are in a kitchen, likely doing a task, the music can be a little louder. Location and balance is also a key component as it must be properly placed so it is not blaring in one ear from one corner of the room.
Nellie Mark of Charlotte Lucas Interior Design: When laying out a music room, there are a number of key things to consider: storage, seating, and what you want to be a main focal point in the space. In the case of one of my clients, they had an extensive vinyl collection -- which obviously needed to be stored somehow -- so we chose to make the collection itself a part of the design. For the client, it's like looking at art they love everyday!
Photo and design by Charlotte Lucas Design
What are must haves for a home music room? Any things to avoid?
NM: To enjoy music fully, great acoustics and a comfortable ambiance are key. Comfortable seating, rugs for sound absorption and moody tones help to create this environment.
RA: Proper acoustics so there are no competing sounds or echoes. Acoustics can differ from room to room...the acoustics in a bathroom will be different from a kitchen. We also incorporate soft surfaces as they adequately temper the sound and allow you to have conversations at the same time. If you have a more minimal style interior space with a lot of hard surfaces, be sure to add elements like area rugs to make acoustics better.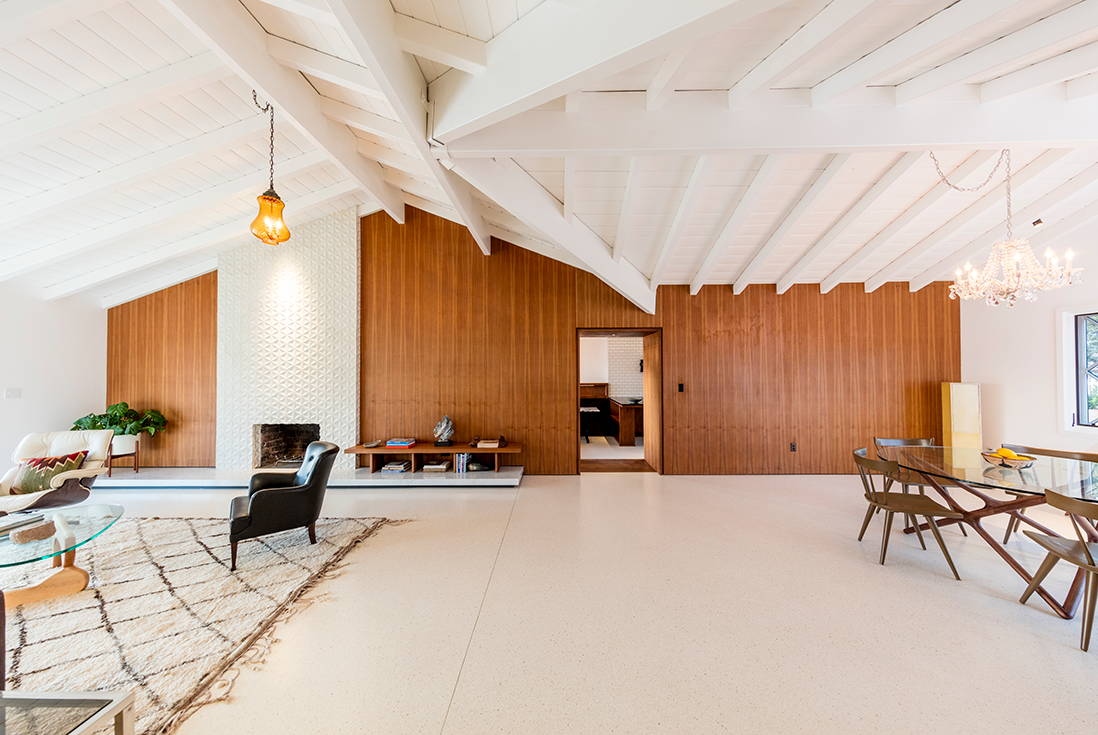 Photo by Ralf Strathmann, design by Rania Alomar
How do you make a "music room" multifunctional?
TH: Most of my clients are record collectors and so I create rooms that integrate players into the spaces that end up being "the heartbeat of the house". I usually create a mood and a total sensory vibe in those spaces. Even the little things like the smell of the candles, the warmth of the lighting and the taste of the cocktails add to the overall experience.
Photo by Jenna Peffley, Design by Tiffany Howell
RA: To make a music room multifunctional, the key is having flexibility with volume, to be able to control the evenness so that the music is not blasting. More and more, our firm is being asked to hide speakers behind the drywall, but smaller speakers mean less powerful and lower quality. Having Wrensilva's speaker integrated within the furniture piece without sacrificing quality or sound is an amazing resource to achieve this request.
NM: Incorporating a bar or desk/workspace are two ways to make a space like this serve several functions. A bar area for pouring a drink and playing records while entertaining, or an office space for working & surrounding yourself with inspiration, are two different routes you could take to give the music room more than one purpose. A hidden bar like this one could be great in a music room:
Photo by Morgan English, Design by Charlotte Lucas
Do you think any room can be a music room? And if so how do you make a living room, family room, den, etc. into a music room?
TH: Definitely! Just have fun with it. My best advice is to make sure there is room for dance parties.
NM: Yes! In getting a piece like The Standard from Wrensilva (or the Loft if you're in a more compact space), you can turn any room into a music room! I'd advise picking the room in your house with the most sound absorption and coziest environment, but in adding just this one important piece, you can easily create a room that's centered around music.
RA: Just like you want light and air in every room, the same goes for music too. By having it in every room, it supports all the senses. If you seamlessly integrate music into your living space, every room ideally could be a music room. When we are designing a space, we think about all the senses starting from the outside in - the smell of fresh grass or lavender from the garden, the sound and acoustics as you enter the home, the feeling of either the carpet or hard surface you walk on. But it's not just what you see, it's also what you feel - maybe there's a breeze from an open window, gentle daylight, and then when you fold music into that, that adds to the overall experience of the room.
If you could pick any Wrensilva for a project, which one would you choose and why?
TH: I am a fan of The Standard. It sounds so good and of course I like the fact that it looks sexy.
NM: The Standard is my favorite for its subtlety. It looks like a standard console but has a wonderful hidden secret within it.
RA: I love the Loft - this console is versatile, it could go anywhere and doesn't have to be the center. It can be dotted around, or you could even have a few them throughout the home.
Wrensilva Loft
What's your favorite (or one of your all time favorite) albums?
TH: Leonard Cohen - New Skin for the Old Ceremony
NM: Leon Bridges - Coming Home. So good!
RA: We listen to Michael Kiwanuka all the time at home. And in the office, pianist Ludovico Einaud for his calming music.
Create the Ultimate Home Music Room Audio Experience with Wrensilva
Now that you have all these home music room ideas from designers, all that's left is to choose between The Standard, Loft, or M1 models of the Wrensilva modern stereo consoles for the best music room audio. 
Check out our collection now to complete the ultimate music room in your home.