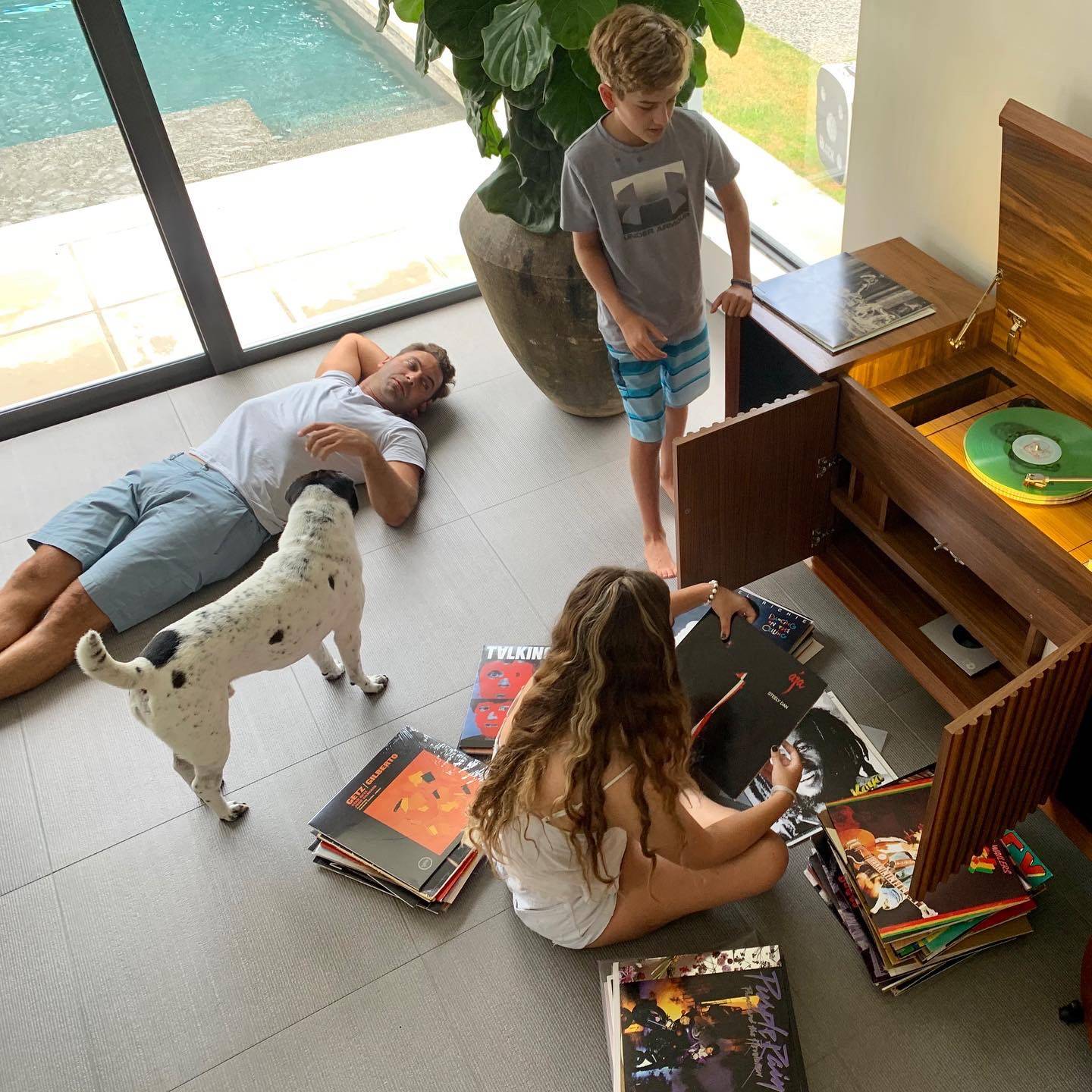 Photo credit: Lauren Thomas / The Thomas family
Once upon a time, dropping the needle on a record loved by the family unit after dinner was the norm. No screens involved. Dance moves in rare form. The next best thing to a live show is a concert-like experience in the comfort of your own home—specifically, the family dance party.
Many Wrensilva® customers are still familiar with this scene, a design-forward console that beckons a crowd and HiFi filling their homes. When there's a Wrensilva involved, music becomes a multi-sensory experience pretty quickly. The beautiful record console, coupled with a great album and the volume turned up, has the power to get everyone's endorphins activated and physically grooving around the living room. Two families, the Thomas family in Jupiter, Florida, and the Johnsons in St. Charles, Illinois, share their Wrensilva family traditions and why keeping the music (and boogying) alive is essential to them.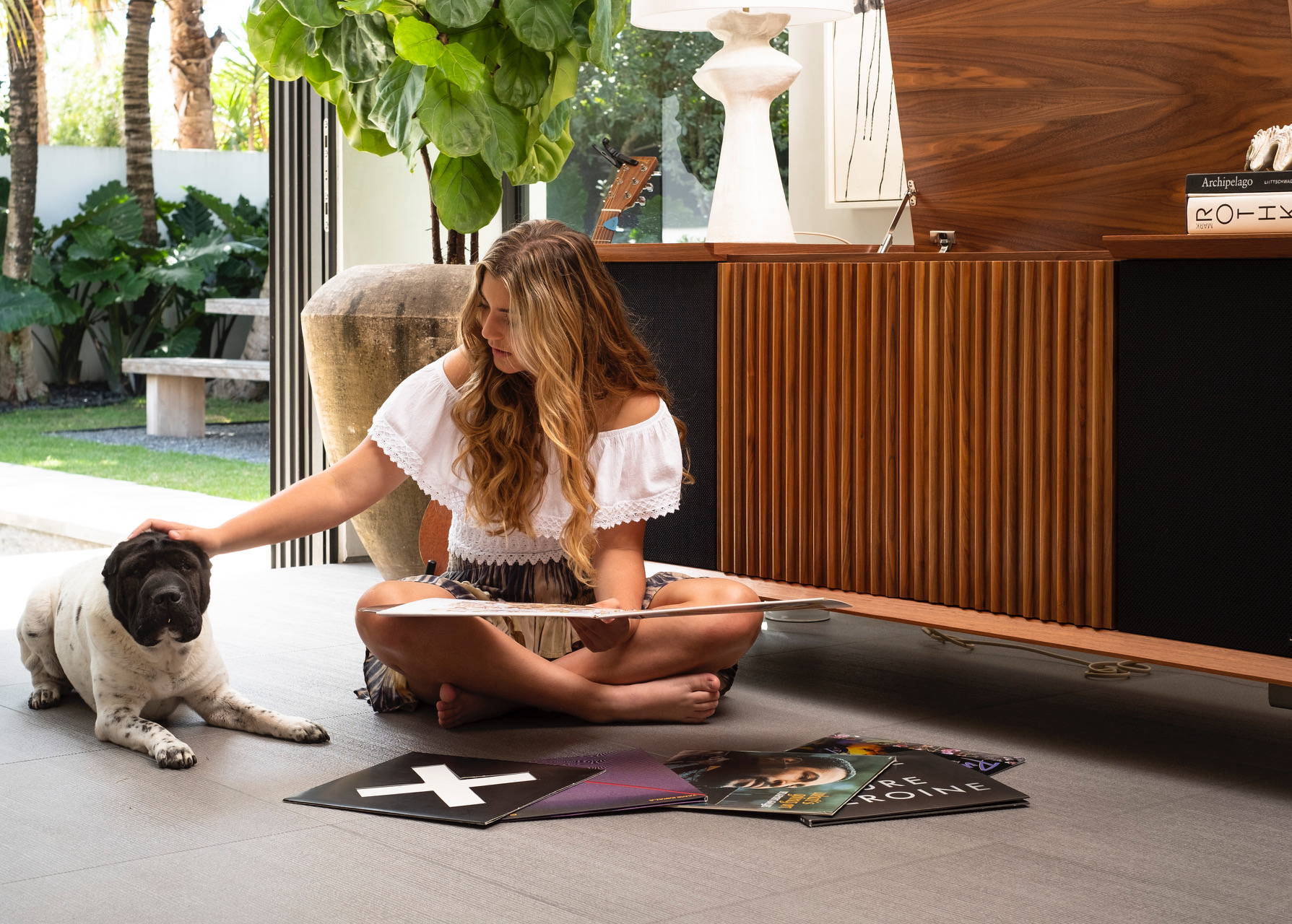 Photo credit: Jerry Rabinowitz
Lauren Thomas, The Thomas Family
Console: The Standard
Why is dancing to vinyl (free of phones) essential to you? Music doesn't always have to be in the background. Gathering around a small space and picking out records, discussing music, and dancing is an intentional activity that everyone in the family can contribute to. It stimulates conversation and it's an opportunity for everyone in the group to feel heard and seen. Believe it or not, our kids actually welcome having to put their phones down for gatherings such as these and also at the dinner table. Putting away the phones means putting the present moment first – which is our family in our living room – and I believe that setting this precedent creates a ripple-down for future generations.
The Thomas's vinyl rituals: We all sit in our family room next to our Wrensilva console, either before or after dinner. One person will pick out a record and cue a song, meanwhile, another person ques up a song from their phone and plays that song next using the Bluetooth feature, and they alternate back and forth between the two methods. Since our console can play vinyl and also has Bluetooth capabilities, it mixes it up a bit. There is no other engagement on our phones, rather it is a fun activity that we all feel we are contributing to being a member of the family DJ.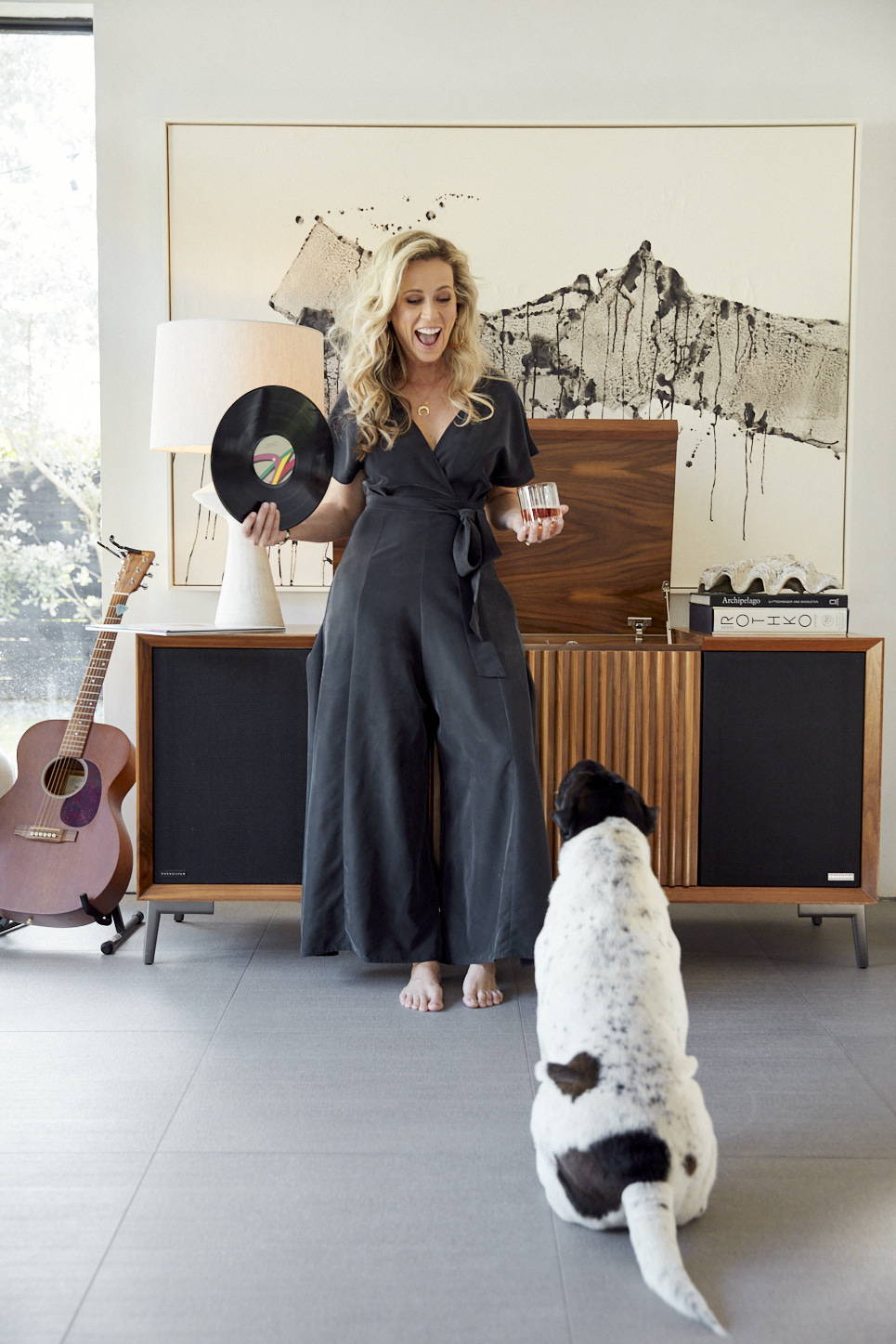 Photo credit: Kristy Horst
That special record that gets everyone dancing: Michael Jackson's 'Thriller.' We adults were raised on that album and we played it for our kids when they were young. We all know every word to every song and it just gets us moving like nothing else. Lots of laughter happens. Tame Impala is another one we love to dance to. Sometimes we will play a record loud on weekend mornings and dance into our kids' rooms to wake them up. That always gets everyone laughing!
What do the kids love about spinning records on their Wrensilva? We all love to talk about the artist, their history, or what they're doing now. And we especially love to pay attention to how great the sound quality is whether you're spinning an old record from an artist such as Miles Davis or Etta James, or one from a modern-day artist such as Kanye or Tyler the Creator. Also, the family loves collecting vinyl. We started with my husband's collection from when he was younger, and our kids have continued to build the collection with albums from their generation. We love hearing the actual bass waves that only vinyl produces – and the Wrensilva brings that sound to life so flawlessly.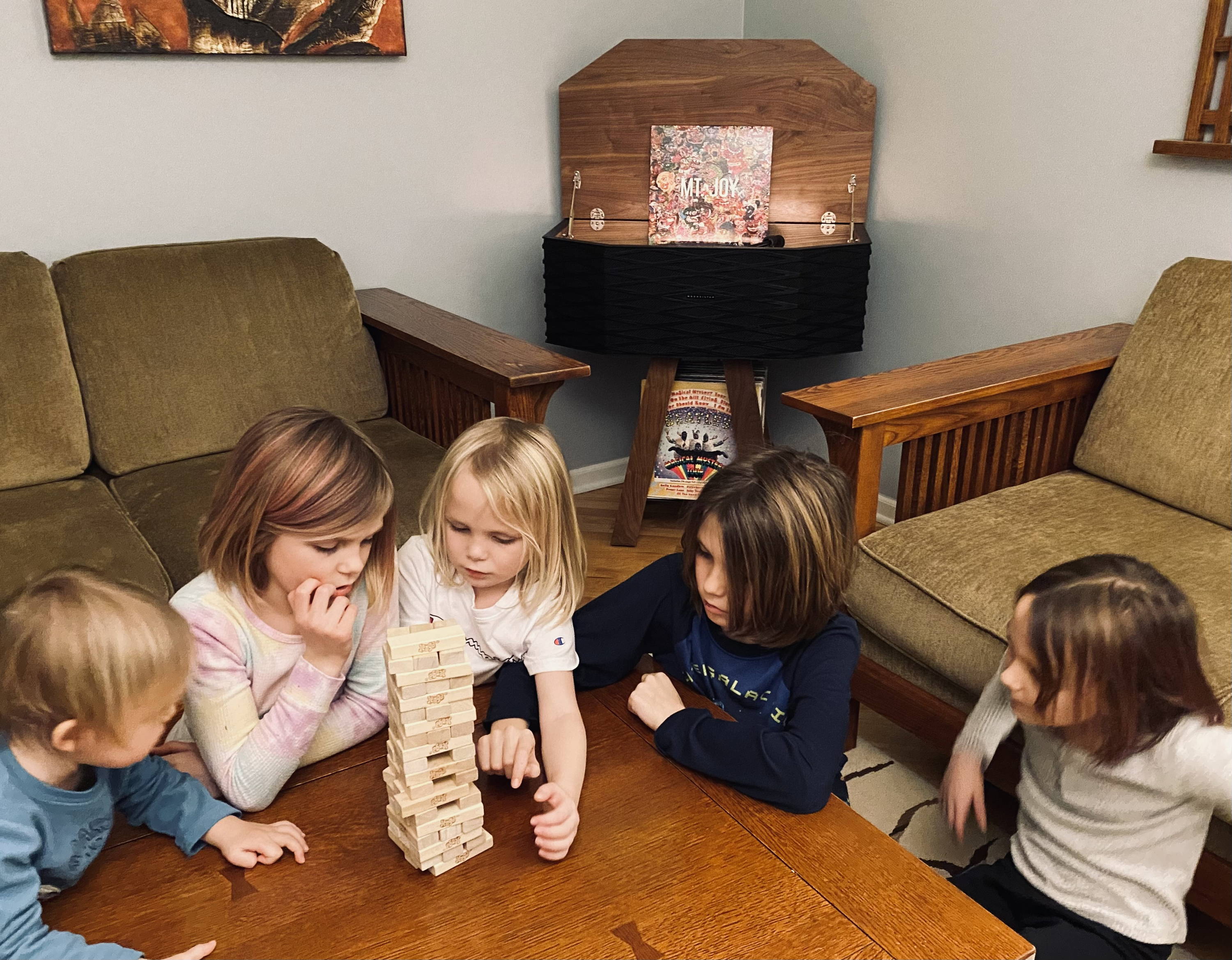 Photo credit: Matthew Johnson / The Johnson family
Matthew Johnson, The Johnson Family
Console: Loft
Why is dancing to vinyl (free of phones) essential to you? Music brings us all together in that we can all experience something together. When listening to music and dancing, it is a judgment-free zone. Our children get to see how much music can enrich the moment, and they are free to just be themselves. Who cares how you look when you dance? The most important thing is to have fun and make some memories. Music paints a time period, and we hope that as our children age they will hear songs we played in their youth, and it will just bring them back to the family dance and listening parties they had as children and put a smile on their faces. They won't remember the time they spent on the phone or iPad. They will remember the dance parties… hopefully.
The Johnson family's vinyl rituals: I would say we try to involve everyone in the process. We have five children, so it's tough to have everyone involved at the same time. Everyone gets their turn, from picking the album to turning on the turntable and lights. My wife and I generally drop the needle. Then the party begins. Not every night is a dance party of course – sometimes we just hang out, talk or just play with toys while the music is in the background. The one ritual we try to maintain is that while the music is on, we avoid electronics.
That special record that gets everyone dancing: That depends on who you talk to. I would say 'Let's Dance' by David Bowie gets everyone going, including our 1-year-old. If you talk to our two girls, they want to listen to 'Red (Taylor's Version)' by Taylor Swift at every opportunity they get. My oldest son is a Beatles fan with 'Magical Mystery Tour' being his top choice for a Beatles dance party.
What do the kids love about spinning records on their Wrensilva? They love being part of the entire process. They get to see that music is more than sounds streamed from a device. They see the vinyl spin, the needle drop and ultimately hear the beautiful sound from the console. They know my wife and I love music and the Wrensilva console makes them part of the entire experience. The music, the artist, the album cover, the beauty of the console all come together to make listening to music a pretty special experience with the family.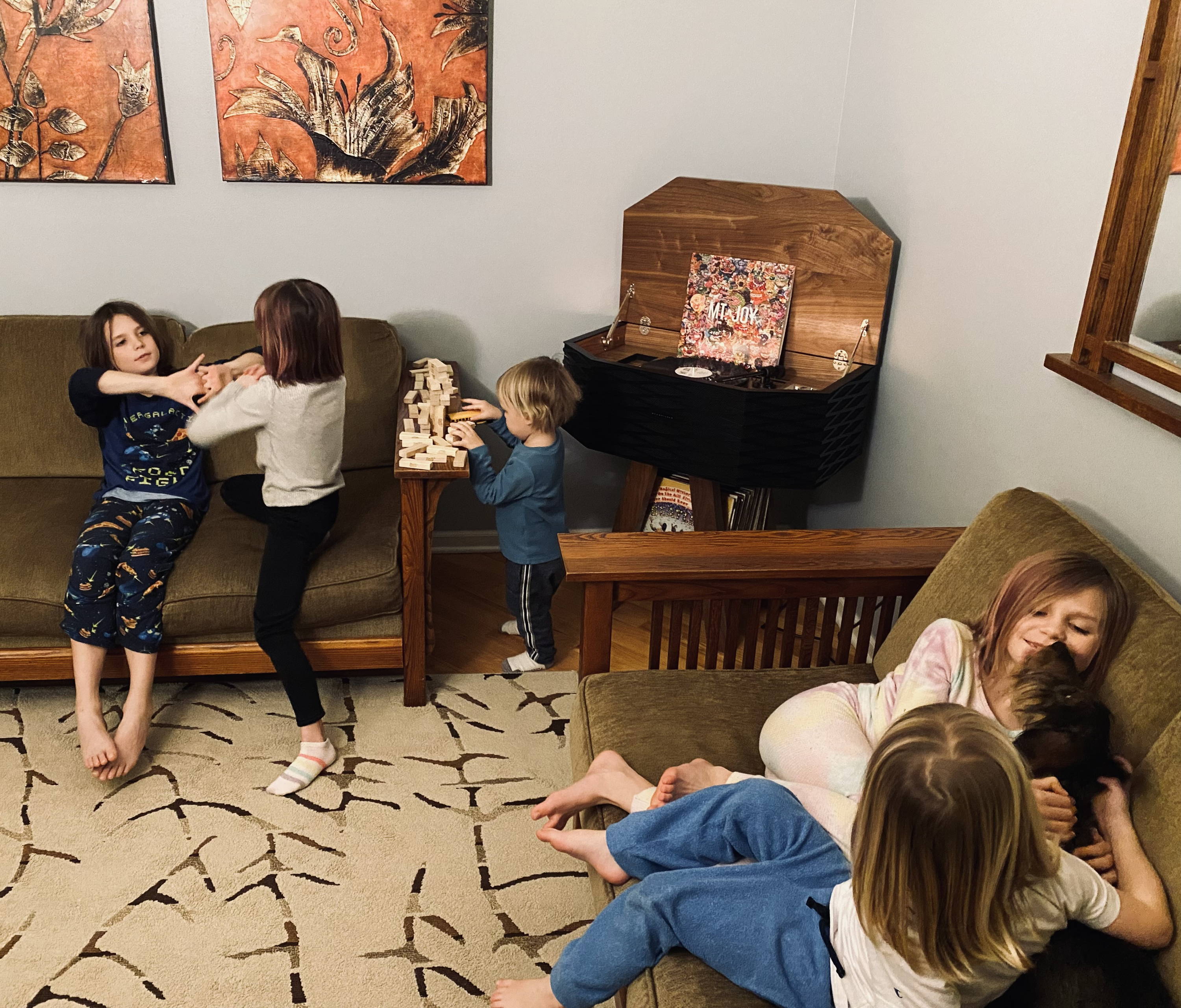 Photo credit: Matthew Johnson / The Johnson family