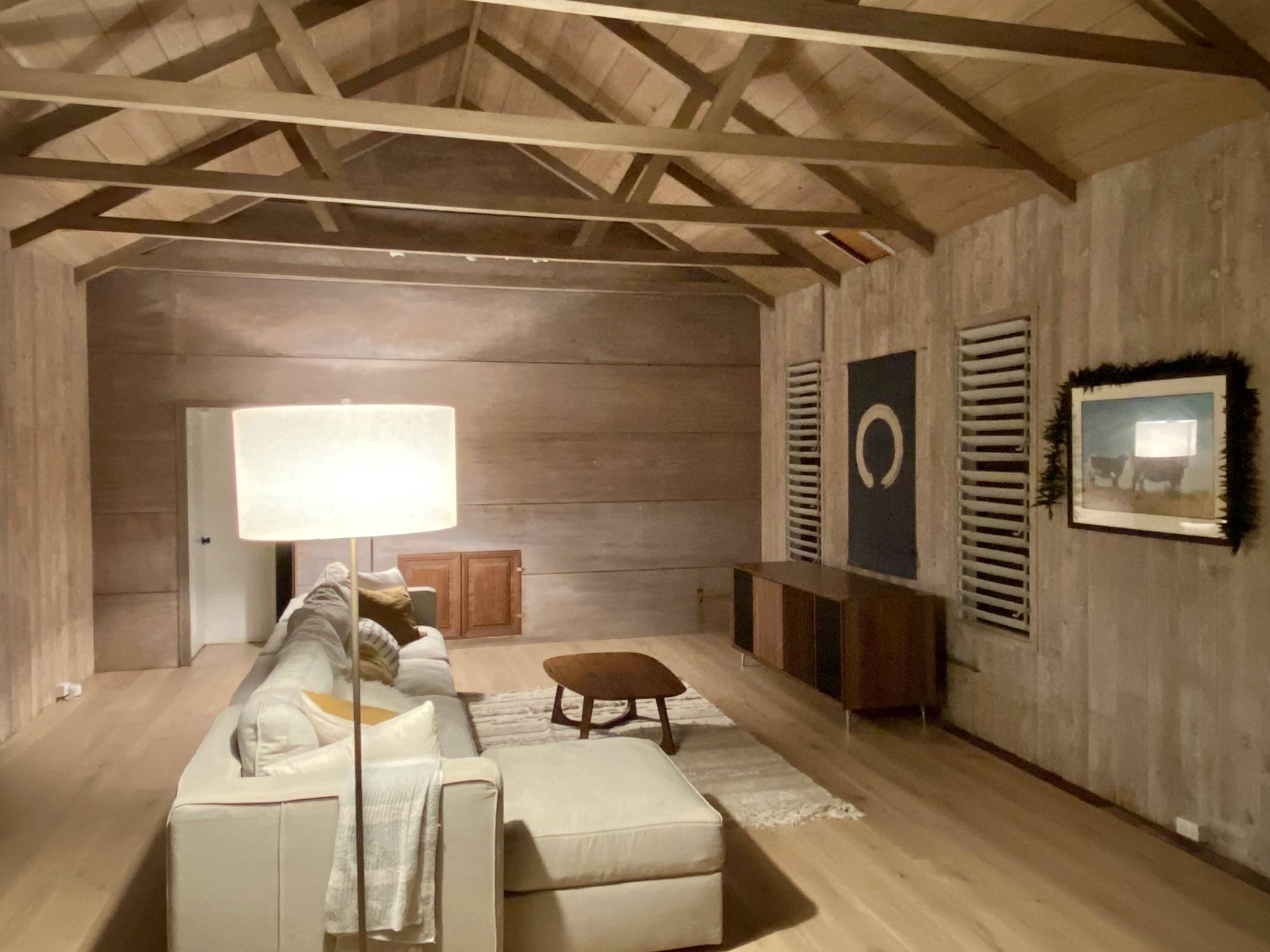 Photo: Courtesy of Ben Rand
With their optimum sound for both analog and streaming, Wrensilva® record consoles serve as a visual centerpiece in any room. Here are six swoon-worthy examples of well-designed spaces that will inspire design and music lovers alike. Read on to see the stylish ways that customers have integrated the beautifully crafted pieces into their homes.  
1. Create a cozy, intimate space devoted to listening and conversation:
Though Wrensilva sound travels far and can fill large spaces, there is something special about bringing it into a more intimate setting. A well-thought-out floor plan like this one by Burch Interiors builds the room around the M1, reminiscent of sunken conversation pits popularized in Mid-century modern design. The console almost acts as a fifth member of this quaint seating arrangement, allowing music to be the major player and statement piece in this personal setting. The baby grand piano further elevates the music-centric vibe while the vibrant rug warms the already cozy space.
2. Enliven the room with greenery:
Whether it's cacti, dried lavender or lush potted plants, pairing greenery with the natural wood elements of Wrensilva consoles is a symbiotic match. Studies have actually shown that plants grow faster and larger when music is played for them, especially classical music. Though the Loft is more compact than the other consoles, its sound still commands a room – a perfect piece to frame with taller plants like a fiddle leaf fig. As for the Loft's larger counterparts, M1 and The Standard, there is also plenty of surface area for potted plants on either side of the turntable.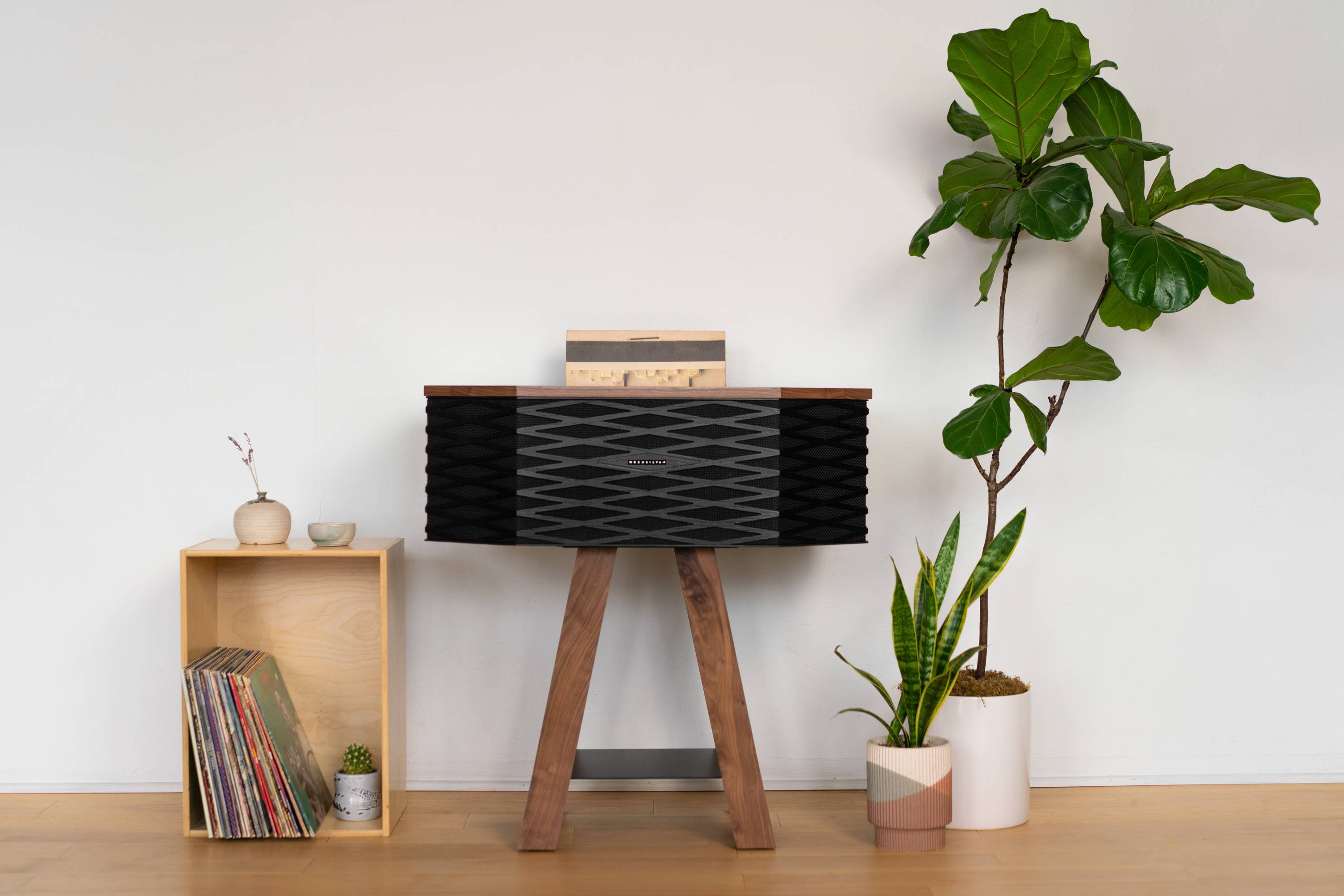 3. Eat, drink and drop the needle:
The backdrop of music is synonymous with any dinner party, so it makes sense that Wrensilva would make its way into the dining room. Or perhaps it's a laidback Sunday morning eating breakfast, nursing a cup of coffee while mulling over the newspaper and listening to 'Rubber Soul' on vinyl. Regardless of the time of day or the number of people present, the ability to listen to music on a Wrensilva console while enjoying a meal is a luxury unto itself. As seen in this Thomas Melhorn-designed project, there are many ways to seamlessly integrate these stereo consoles into the dining arena as a stand-alone piece of modern furniture. Plus, food generally tastes better when a great record is playing.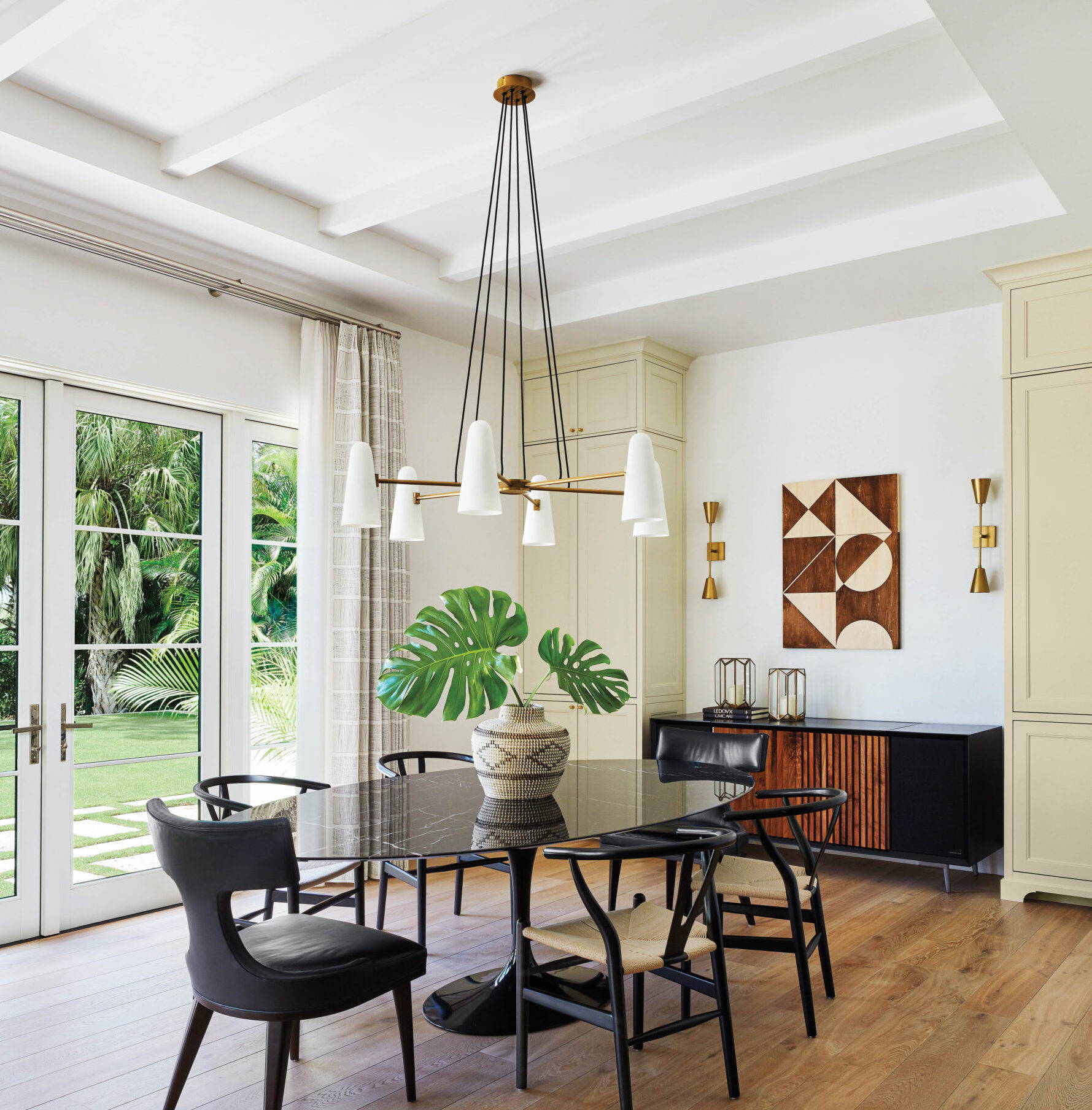 Photo: Brantley Photo for Luxe Interiors + Design
4. Play up materials to design a room with character:
When it comes to choosing materials, placing a Wrensilva console in a room with floor-to-ceiling wood seems almost too good to be true, or potentially excessive (is there such a thing as too much beautiful wood in one space?). However, one glance at the zen, wood-laden design in this room obliterates all doubts – there is no such thing as too much wood, especially with tasteful, minimalist decor as displayed here. Wood's warm aesthetic and acoustic qualities make it a key material for many instruments, Wrensilva consoles and, unsurprisingly, design and architectural applications such as wood ceilings, wood walls and wood grille bars. And don't be afraid to use multiple textures and colors of wood within the same room; it allows the uniqueness of varying grains to boldly stand out as seen in this cozy study in the woods.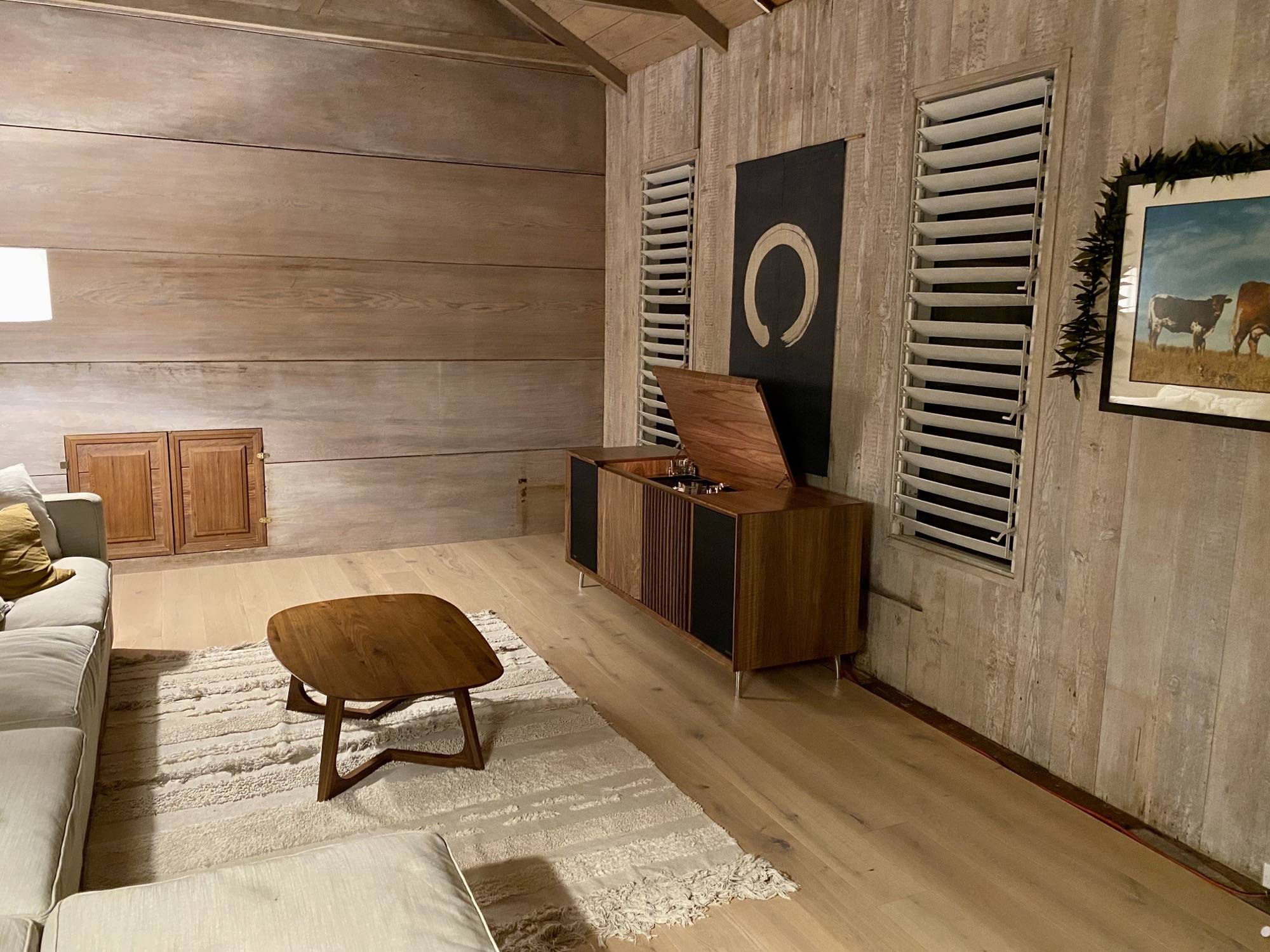 Photo: Courtesy of Ben Rand
5. Let the music make a splash:
It may not be the first space one would think to place a record console, but by the pool may be the cleverest idea yet. Imagine it's a hot summer day, friends are floating on inflatables, sipping cold drinks and catching rays. Why settle for anything less than HiFi sound to turn this into a bonafide pool party? As contemporary architecture increasingly bridges the gap between indoor and outdoor spaces, such as this pool area designed by Carla Kalwaitis, Wrensilva acts as the perfect, functional design piece to connect these two worlds. Choose a space that's safe from the elements, and let the music be the great neutralizer for modern indoor/outdoor living.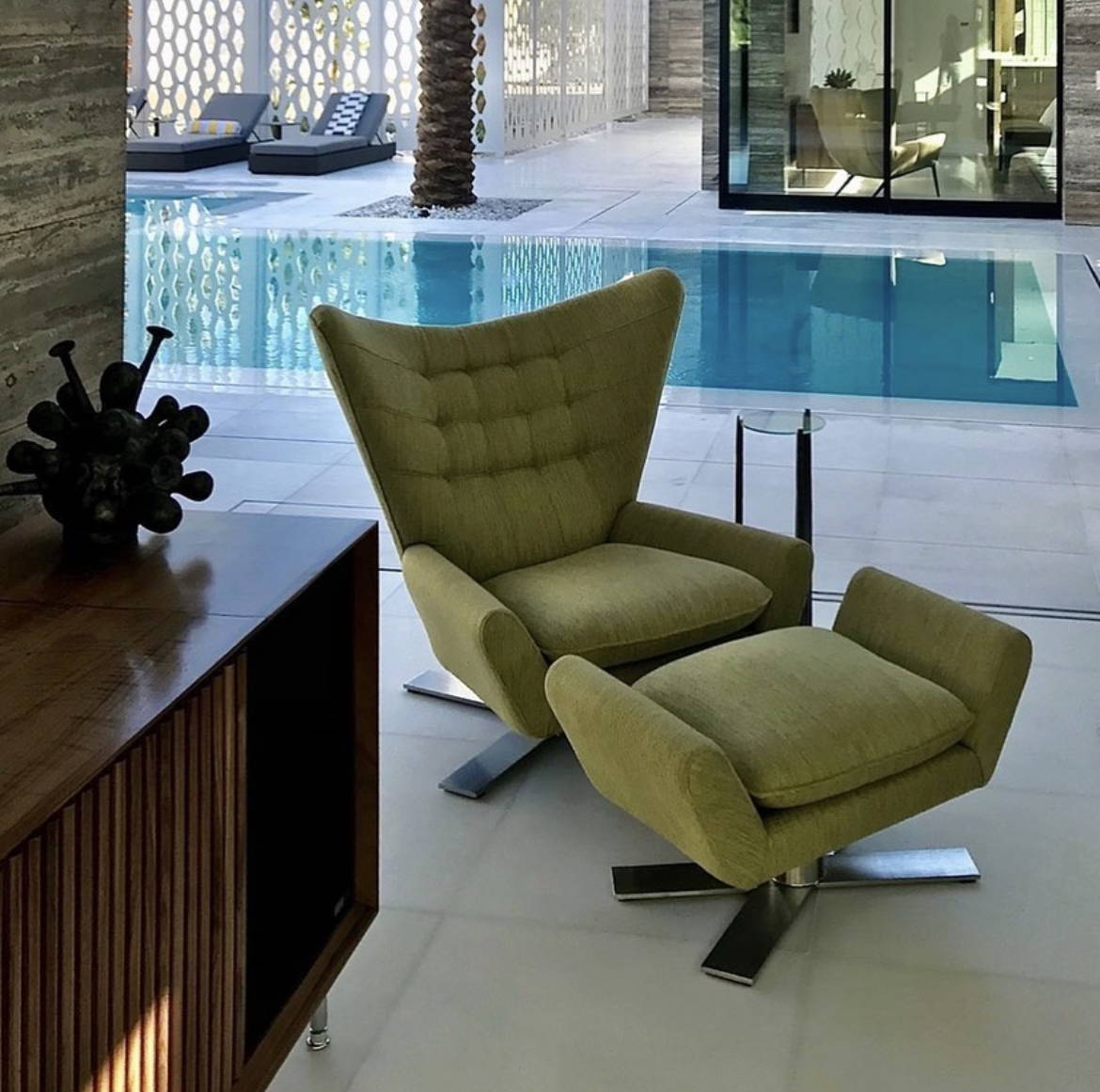 Photo: Carla Kalwaitis Design
6. Build a library around sound:
There's nothing more nostalgic and grounding in this digital age of screens and streaming than a room filled with books and vinyl. So it only seems appropriate to find a Wrensilva next to a home library, together echoing bygone days of quiet, soulful activities often amiss in a world that never stops moving. A hermetic sanctuary doesn't need much else, except a deliciously cozy couch to spend long hours reading the time away as you listen to your favorite records on The Standard. Plus, books are great for room acoustics, a natural way to improve the sound of any room.
Regardless of a room's setting, style or size, Wrensilva is the perfect, modern centerpiece to bring a space to life. It's an inspiration to see the creative ways Wrensilva lovers have welcomed these consoles into their homes, offering a plethora of ideas for your design endeavors.